About Us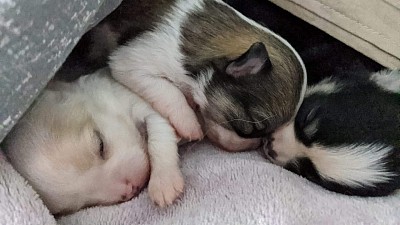 WELCOME!
  We are located in beautiful Cornelius, Oregon. We have been raising chihuahuas for over 30 years.  We fell in love with the long hair chihuahua about 9 years about ago and decided to solely focused on  them.  We are a small home breeder that strives to better the breed in hopes to produce outstanding qualities in personality, conformation, and overall appearance.
We pride ourselves in maintaining a minimum of amount high quality dogs for our breeding program.
 We specializing in AKC apple head, long hair coat in wide array of colors.
​ Our chihuahuas are raised in our loving home, treated as part of the family.  Our dogs are NOT kenneled they live in our home with unlimited access to outdoor playtime  (doggie door to a huge fully fenced backyard).  Our babies are well socialized with other pets (kitties, big dogs and children). Our puppies are raised using total hands on approach from the time of birth to assure perfect temperament.
  Our puppies will not leave us until we feel confident that they are ready for their new home between 8 and 16 weeks of age. They will be vet checked, wormed, dew claws removed and appropriate shots. We pee pad train and pre-spoil each puppy. Each puppy will come with a puppy pack which will consist of their health records and enough puppy food they have been started out on.  They will also come with a baby blanket with mama and siblings scent, a puppy toy, a container of nutrical and a deer antler for teething.
​  We do offer shipping with a pet nanny (from PDX) for an extra fee that is not included in the price of puppy.  You are more then welcome to fly in to pick up your puppy as well . We will meet you at the airport with your puppy.  Our Preference is to travel to you for when you pay air travel (less than pet nanny). This assures the health and safety .of you new puppy It would also be a great opportunity for us to meet!   We are also willing to drive and meet half way, within a reasonable distance of us. We are located in Cornelius, Oregon.
We do require a non-refundable deposit of 20% of your puppy price. Puppy prices MAY start at $2500+ Pricing will be posted on website with puppy after they have been evaluated.  Pricing depends on size, coloring, bloodline, etc. All puppies will need to be paid in full before they can go home.  We accept payments through Good Dog, Zelle, Venmo and Cash (no PayPal).

We have 

references to back up our credentials. Please ask.


WE DO REQUIRE AN APPLICATION!

   

 
Past puppy buyers will get first choice on any available puppies.
Please feel free to contact us with any questions as we would be happy to answer.                             
 We look forward to helping you find the perfect puppy !