CUSTOMER REVIEWS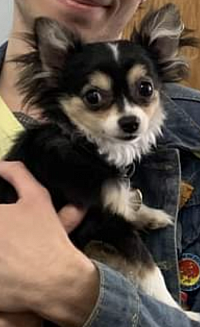 Fran Tust and Pancho, Pennsylvania 
We had a wonderful experience with this breeder, she goes above and beyond. Her chihuahua pups are very well cared for and it shows. We got our beautiful long coat chihuahua named Pancho from D's. Pancho is the sweetest pup ever. Everywhere we go he is a popular little guy. Highly recommend this breeder 💜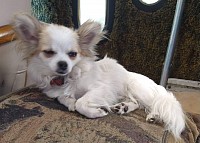 Linda Raney and Wolfie, Oregon
What a sweet, beautiful baby boy from D's Darling longhair chihuaha's. I couldn't be happier! Thank you Diana. 😁💕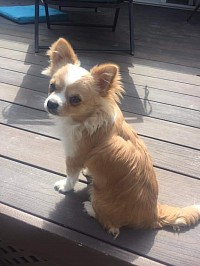 Ronny Stockton and Mateo, Washington 
We couldn't be happier with our decision to get a puppy from D's Darling Chihuahuas! Great communication throughout, quick responses to our questions, weekly updates and puppy pictures from the beginning until we brought him home. Checks in on us to see how he's doing. And he's always been wonderful! Beautiful personality, very social, doesn't know a stranger, and isn't a barker. We plan on getting another puppy in the future to add to our family and it will definitely be from D's!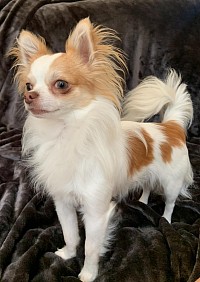 Cameron Martin and Winston, California 
We had been searching for a chihuahua for over a year. We were so lucky to find D's Darlings! We found Sir Winston Spice at 5 days old. Diana sent us weekly updates and pictures. I flew into Portland airport to pick him up where Diana met me. I was back on a return flight in 2 hours. I highly recommend D's Darlings, her puppies are beautiful, well socialized and have great personalities.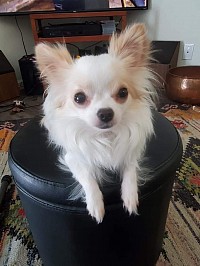 Samantha Aaro and Isabella (Isi),Maine
We had the most wonderful experience with Diana. She kept me posted on our puppies progress throughout and was always willing to answer any questions I had. Diana estimated her weight at adult age and it was completely accurate. My Isi came to me happy and healthy. I still check in with Diana at least once a month and give her an update on our Isi. I would recommend her to anyone looking for a breeder that is doing it right!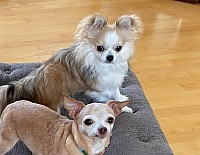 Christine Heyne Anokhin and Chapo, Oregon 
I highly recommend D's Darling AKC Long Hair Chihuahuas.
Diana is the Best, she sends weekly updates on your puppy's progress with pictures and videos. Any questions Diana quickly reply's.
I love that the puppies are raised in Diana's home.
Our puppy Chapo is super smart, he loves to play, he brings so much joy to our family♥️♥️♥️
Thank you D's Darling!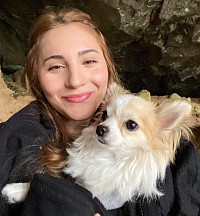 Shelly Alafi and Nutella, Oregon 
No words can describe my amazing puppy! So handsome, healthy, loving, and has the best personality ever. He's such a funny chihuahua!
The dogs live their best life they're super loved and taken care of!
Diana is super nice and was there to answer all my questions and is super professional!!
Highly recommend getting a chichi from her!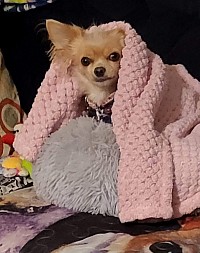 Darla Hyatt and Kylie Grace, Oregon
I got my precious Kylie Grace from " D's Darlings almost 4 years ago. She's my everything 💜💜💜💜 I had the most Amazing experience !!!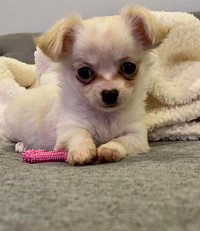 Anna Haley and Sophie, New Hampshire 
I can't say enough good things about D's. From first finding them on gooddog.com to the very moment we brought our little home we have had the most amazing experience working with Diana. Finding a good breeder is hard but trusting who you do find is even harder! Now add on living on the complete opposite side of the country! Diana made me feel so comfortable and so confident that I had made the right choice. She went above an beyond to keep us updated with weekly pictures, videos and health updates. The quickest response times and there was never a question we had that went unanswered. She was so knowledgeable an compassionate. She truly cares and loves all her littles and it shows! We could not have found a better breeder and we are so thankful for them an for our little Sophie who Diana personally flew all the way to Boston to hand deliver to us ❤️ she couldn't have been any better hands than hers!  
Highly recommend D's!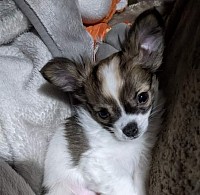 Susanna St Clair and Cooper, Washington 
It took me weeks to find a "real" Chihuahua breeder because the scams are so prevalent. When I read the contract fom the breeder, I was impressed. They aked the right questions. Also liked the kind of dog they were breeding ( long haired) . I even checked out their family page to make sure they were , again, real. The most amazing part of working with Diana was that she was more than willing to drive many miles to meet me and the home the puppy would live in. Thats a dedicated breeder!!! She also gave me some great ideas on what would be useful to have for him plus his own little blanket and toy. I would highly recommend this Kennel.
Megan Schwartz and Olive, Kentucky 
We highly recommend Diana! From the moment we found her on gooddog.com, it's been a great experience the whole way through. We kept up great communication, and she provided updates every week with new pictures of our little baby, Olive. We can't thank her enough for our precious pup!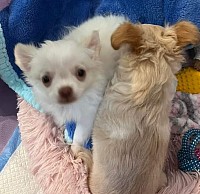 Ollie
Raquel Spratt and Ollie, Florida 
Thank you, Diana for my beautiful chihuahua Ollie. The process of getting my Baby was smooth. Diane arranged everything and brought Ollie to me. Olllie has a great personality and this is because of how well he was treated. I totally recommend D's Darling Chihuahua.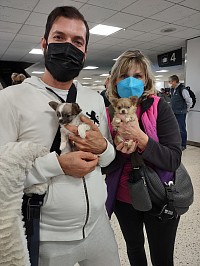 Oliver and Stefan
Fransisco and Jevon with Oliver and Stefan, Houston, TX
Diana, you are absolutely the best and it was a pleasure to meet you in person. These boys are beautiful and a great example of the hard work you put in as a reputable breeder. We recommend D's Darling AKC Long Hair Chihuahuas 💝 💯 %! For anyone interested in a #chihuahua please contact Diana. She is very caring in what she does and lots of experience. We are very lucky to have found you!  
Both boys are happily sleeping after a long day. Thank you!!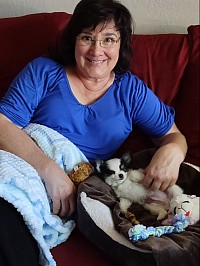 Valerie Masters and Dobby, California 
I am completely in love with my new boy! He is very sweet and friendly! Thank you so much Diana for bringing him to Sacramento and doing such an amazing job at socializing these little sweethearts.
  Hi Diana. I was just thinking about you and the girls. I had a rescue for 17 years. Just recently closed. I've known reputable breeders, those who are not, and those who have retired, releasing 80 dogs to me and wanting to make up for what they've done, which they did 100 times over. I've been tracking so many Chihuahua breeders over the years. You're one of the good ones. I love this breed and appreciate the good breeders.
Laura Tonkin, Snoqualmie, WA